The SLC-TWR torque tester is versatile wireless torque tester that fits to standard torque wrench sizes. The reading is displayed on the connected smartphone or tablet. 
It can be used as  bench / wall mount torque tester for torque wrench calibration, or rotating torque transducer for precision-torqueing:
Industries: industrial mounting
Application area: mounting, maintenance
Use: precision torque application, torque wrench calibration
– Small, handy, wireless
– Torque-time graph drawing and saving
– Range analysis
– High storing capacity on the smartphone
– Graph zooming and scrolling in the history
– Adding comment to the results before saving
– Free Android application for unlimited devices
– Included pc software for data management and report creating
– 3 years warranty
INCLUDED ACCESSORIES

1 cap fitment support + 1 cap fitment OR 1 neck adapter

SMARTPHONE REQUIREMENT

1 GB RAM, 1 GHz Processor, 4 GB ROM

ANDROID VERSION

Android 4.4 or higher

MEASURING RANGE

5 sizes: +/- 1/4″-15, 3/8″-50, 1/2″-100, 3/4″-500, 1″-1500 Nm

UNITS OF MEASUREMENT

LbfIn, LbfFt, Nm, dNm, Ncm, kgfcm, mV/V

DISPLAYED VALUES

Actual, Max1, (Max2), torque-time diagram

ACCURACY

+/- 0,25% F.S.

SAFE OVERLOAD

120%

MAXIMUM MEASURING FREQUENCY

400 Hz (2.5 ms)

RANGE ANALYSIS

Yes – In range / under range / over range, with Over Range Alarm function

CAPABLE CLOSURE TYPES

No

MAXIMUM SAMPLE SIZE

Any

CALIBRATION KIT

not available

OPERATION TIME

12 hours

DC SUPPLY

Micro USB

BLUETOOTH RANGE

20-40 m on air

INCLUDED SOFTWARE

Android application, Data manager for PC

MEMORY

Thousands of results (phone memory)
Maximum length of recordings: 5000 points

STORED DATA'S

Measurement nr, peak results, date, time, diagram, instrument serial number, comment, calibration date

RESISTANCE GRADE

IP 65

LANGUAGE

English

DIMENSIONS: FOOTPRINT / HEIGHT

Depending on range

NET WEIGHT

Depending on range

SHIPPING PACKAGING

Heavy duty waterproof case

SHIPPING DIMENSIONS

Depending on range

SHIPPING WEIGHT

Depending on range

COUNTRY OF MANUFACTURE

Hungary

WARRANTY

3 years
SmartLoadCell has 4 different measuring modes. Relevant modes for this application: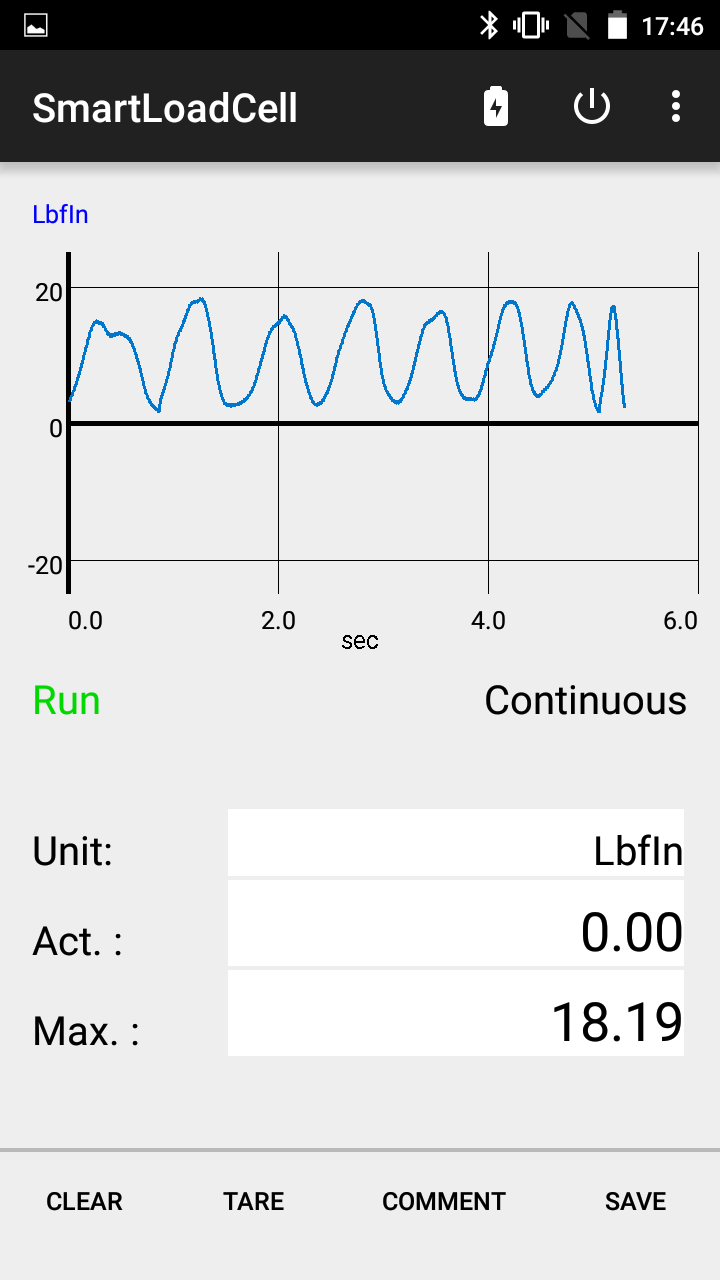 Continuous mode
It is recommended to use MAX LIMIT setting with sound signal for using for torque control on on torque torque wrench
Results:
What to do with your results?
Add comments
Save
View from the history – diagram can be zoomed and scrolled
Send to pc on Bluetooth, wifi, mobile internet or USB cable
On the PC: the included data manager program can:
convert results to csv-file (excel compatible)
display the results with diagrams
make statistical analysis of the results
create report from the individual results or from the statistical analyses