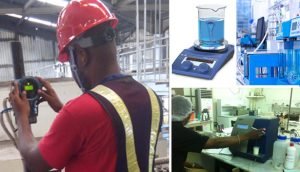 Etcon Analytical and Environmental Systems & Services Ltd. is a wholly Nigerian Company specialized in the sales, marketing, distribution, installation, startup and maintenance of various equipment in Nigeria Industries and Institutions in the areas of:
We provide our customers with an expansive choice of premiere products from a vast group of leading manufacturers. Our ability to work directly with well established and secure suppliers enables us to offer very competitive pricing while ensuring that you, the customer, never have to compromise on quality, support, or service.
We pride ourselves on helping our clients meet the challenges of their unique needs with our specialized product, solutions, and equipment in Nigeria along with outstanding service at the best price possible. Whether it is in a Plant, lab, or field application, Etcon will provide the requisite support you require nationwide and across the globe at large.