RT ROPE TENSION METER 
The SLC-RT rope tension meter is a wireless load cell for testing working loads on ropes, mainly on deck hardware. For quick attacment use it with soft loops. 
Available load ranges: 5 and 10 Tons.
Rope tension measuring
Main industries: Sailing, rigging, industry
Application area: R&D, material testing 
– Small, handy, wireless
– Torque-time graph drawing and saving
– Range analysis
– High storing capacity on the smartphone
– Graph zooming and scrolling in the history
– Adding comment to the results before saving
– Free Android application for unlimited devices
– Included pc software for data management and report creating
– 3 years warranty
INCLUDED ACCESSORIES

1 cap fitment support + 1 cap fitment OR 1 neck adapter

SMARTPHONE REQUIREMENT

1 GB RAM, 1 GHz Processor, 4 GB ROM

ANDROID VERSION

Android 4.4 or higher

MEASURING RANGE

5 sizes: +/- 1/4″-15, 3/8″-50, 1/2″-100, 3/4″-500, 1″-1500 Nm

UNITS OF MEASUREMENT

LbfIn, LbfFt, Nm, dNm, Ncm, kgfcm, mV/V

DISPLAYED VALUES

Actual, Max1, (Max2), torque-time diagram

ACCURACY

+/- 0,5% F.S.

SAFE OVERLOAD

120%

MAXIMUM MEASURING FREQUENCY

400 Hz (2.5 ms)

RANGE ANALYSIS

Yes – In range / under range / over range, with Over Range Alarm function

CAPABLE CLOSURE TYPES

No

MAXIMUM SAMPLE SIZE

Any

CALIBRATION KIT

not available

OPERATION TIME

12 hours

DC SUPPLY

Micro USB

BLUETOOTH RANGE

20-40 m on air

INCLUDED SOFTWARE

Android application, Data manager for PC

MEMORY

Thousands of results (phone memory)
Maximum length of recordings: 5000 points

STORED DATA'S

Measurement nr, peak results, date, time, diagram, instrument serial number, comment, calibration date

RESISTANCE GRADE

IP 65

LANGUAGE

English

DIMENSIONS: FOOTPRINT / HEIGHT

Depending on range

NET WEIGHT

Depending on range

SHIPPING PACKAGING

Heavy duty waterproof case

SHIPPING DIMENSIONS

Depending on range

SHIPPING WEIGHT

Depending on range

COUNTRY OF MANUFACTURE

Hungary

WARRANTY

3 years
SmartLoadCell has 4 different measuring modes. Relevant modes for this application: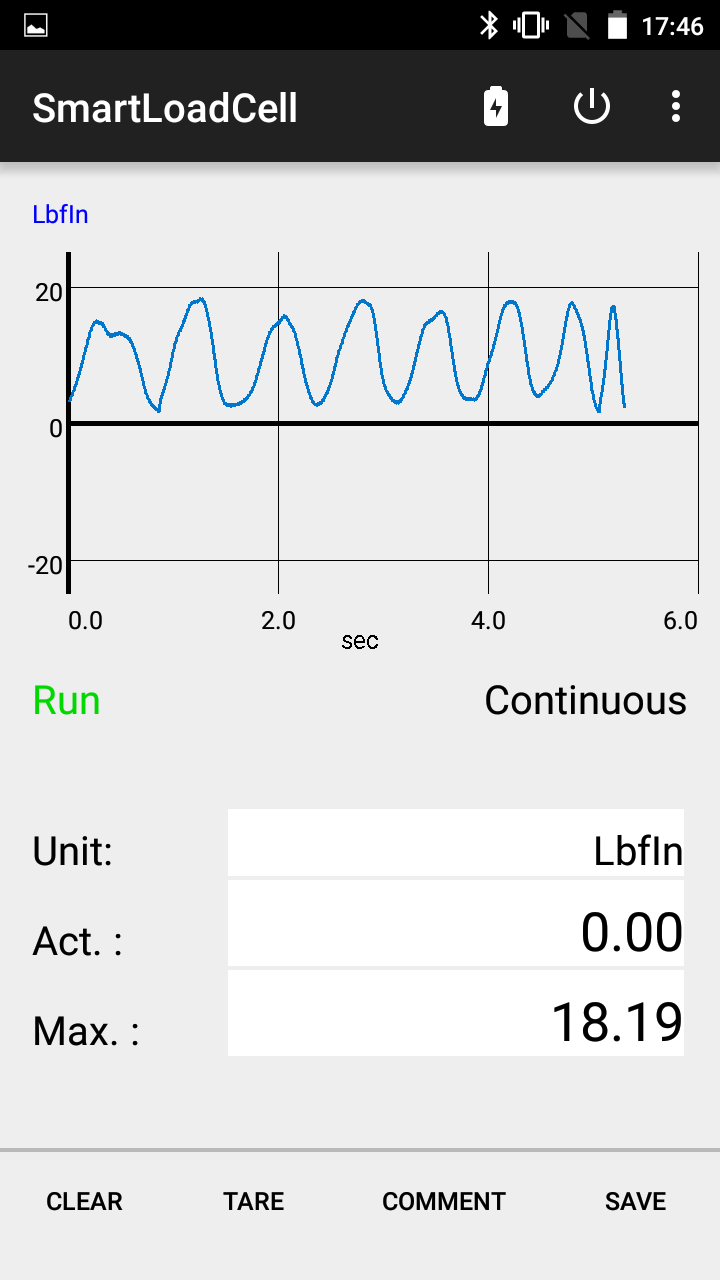 Continuous mode
It is recommended to use MAX LIMIT setting with sound signal for using for torque control on on torque torque wrench
Results:
What to do with your results?
Add comments
Save
View from the history – diagram can be zoomed and scrolled
Send to pc on Bluetooth, wifi, mobile internet or USB cable
On the PC: the included data manager program can:
convert results to csv-file (excel compatible)
display the results with diagrams
make statistical analysis of the results
create report from the individual results or from the statistical analyses