TPL1 Top Load Force meter makes it easy to check the capper head's top load without disassembling it from the capper machine. 
By moving the 2 handles the height of the TPL1 unit can be increased/decreased. So the capper head's top load spring can be squeezed, and the force can be measured. The compression of the spring can be controlled on the mm-scaled rings on the tester, or digitally (by the TPL3 and TPL4 units).
SmartLoadCell units can be connected to any Android smartphone (or tablet) via Bluetooth (over Android 4.4). The SmartLoadCell application offers wide range of test modes and test settings. Results can be stored, reviewed and sent to pc.
Top Load tester is shipped calibrated, with trackable calibration certificate. 
Industries: Beverage, Food, Pharmaceutical, Packaging
Areas: Maintanance
Applications:
Capper machine chuck Top Load testing (single peak mode)
INCLUDED ACCESSORIES

–

SMARTPHONE REQUIREMENT

1 GB RAM, 1 GHz Processor, 4 GB ROM

ANDROID VERSION

Android 4.4 or higher

MEASURING RANGE

30 kg or 100 kg

UNITS OF MEASUREMENT

Kg, N, LbfIn

DISPLAYED VALUES

Actual, Max1 force-time graph

ACCURACY

0,25% F.S.

SAFE OVERLOAD

120%

MAXIMUM MEASURING FREQUENCY

400 Hz (2.5 ms)

RANGE ANALYSIS

Yes – In range / under range / over range, with Over Range Alarm function

CAPABLE CLOSURE TYPES

–

MAXIMUM SAMPLE SIZE

Any

CALIBRATION KIT

available

OPERATION TIME

10-12 hrs

DC SUPPLY

Micro USB

BLUETOOTH RANGE

20-40 m on air

INCLUDED SOFTWARE

Android application, Data manager for PC

MEMORY

Thousands of results (phone memory)
Maximum length of recordings: 5000 points

STORED DATA'S

Measurement nr, peak results, date, time, graph, instrument serial number, comment, calibration date

RESISTANCE GRADE

IP65

LANGUAGE

English

DIMENSIONS: FOOTPRINT / HEIGHT

120x120x65 mm

NET WEIGHT

1 kg

SHIPPING PACKAGING

Heavy duty waterproof case

SHIPPING DIMENSIONS

No

SHIPPING WEIGHT

No

COUNTRY OF MANUFACTURE

Hungary

WARRANTY

3 years
Recommended measuring mode: Single peak mode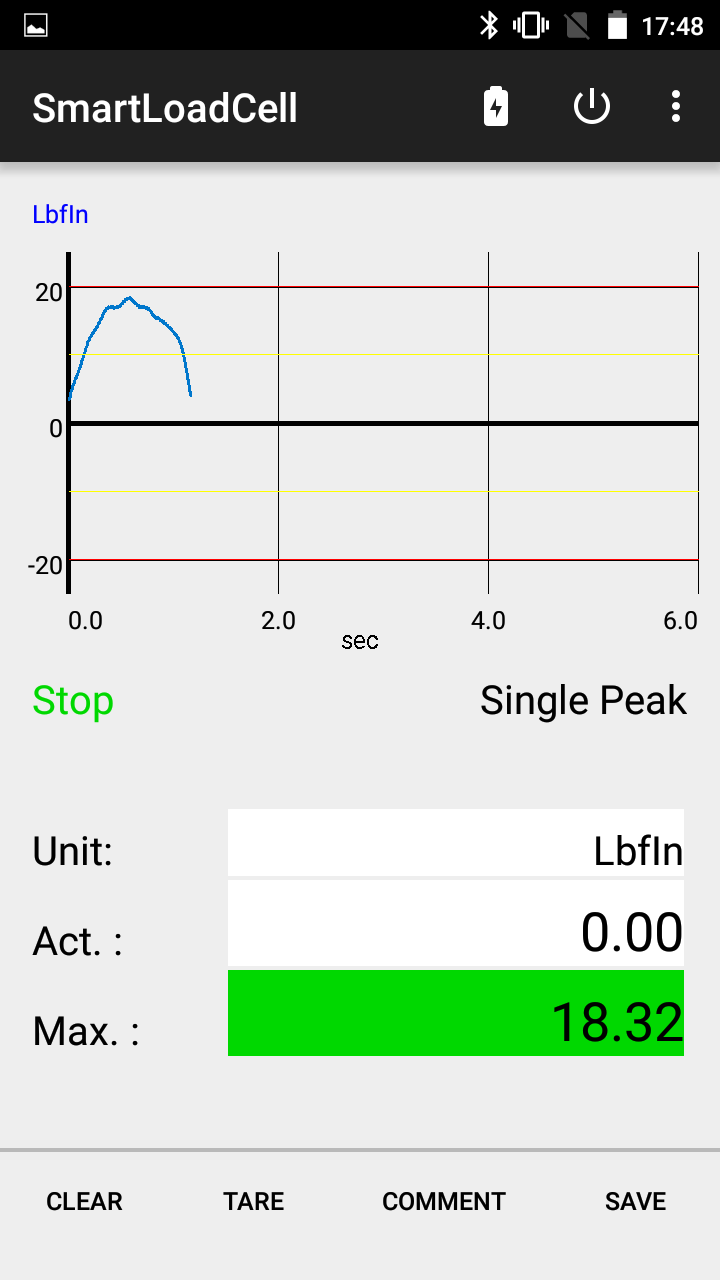 Results:
What to do with your results?
Add comments
Save
View from the history – graph can be zoomed and scrolled
Send to pc on Bluetooth, Wi-Fi, mobile internet or USB cable
 On the PC: the included data manager program can:
convert results to csv-file (excel compatible)
display the results with graphs
statistical analysis of the results
create report from the individual results or from the statistical analyses