Maximum throughput and ease of use with very low sample and solvent consumption
The S-flow range of instruments consist of compact, bench-top automated viscometry systems for the analysis of Newtonian fluids. It complies fully with in ASTM D7279 and as such, has a direct correlation with ASTM D445. It is the ideal system for used oil analysis labs that need to test a wide range of lubricant viscosities. Quick analysis time, small sample size and low solvent consumption, combined with extreme ease of use and reliability make it the instrument of choice for many of our world-wide users.
The S-flow system is a self-contained viscometer system that consists of an accurately controlled thermostatic bath and a control touchscreen. Different models are available with either 1 or 2 baths, each of which contains 4 Houillon style tubes. Highly accurate optical sensors detect the flow of the sample through the viscometer tubes to obtain flow time results with 0.001 sec. precision. All measuring viscometer tubes function fully independently of each other allowing for very high throughput. 
Additional parameters such as tube constants and cleaning cycle are also controlled by the operator. Only requiring 0.3 ml of sample, the system performs the measurement very quickly, allowing a throughput of up to 80 tests per hour per bath. Options include dual solvent cleaning and integrated duplo testing which allows the operator to perform 2 flow time determinations with only 1 sample injection.
Versions 
Omnitek S-flow is available in 3 different models 
| | | | |
| --- | --- | --- | --- |
|   | S-flow 870 | S-flow 1250 | S-flow 3500 |
| Numer of baths |  1 | 1 | 2 |
| Viscometers per system | 4 | 4 | 8 |
| Time measurement | Automatic | Automatic | Automatic |
| Integrated cleaning pump | Yes | Yes | Yes |
| Chemically resistant | Yes | Yes | Yes |
| Solvent injection | Manual | Automatic | Automatic  |
| Software (optional) | Yes | Yes | Yes |
| Integrated Viscosity Index | No  | No  | Yes |
| Dual solvent option | No | Yes | Yes |
| Duplo measurement option | Yes | Yes | Yes |
| Samples per hour  | 25-40 * | 40-80 * | 80-160 * |
| Temperature range (°C) | 20-120 ** | 20-120 ** | 20-120 ** |
| Integrated backflush | Yes | Yes | Yes |
| Warmup prior to measuring | Yes | Yes | Yes |
| Touchscreen | 7" | 7" | 10" |
| Optional robotic operation | No | Yes | Yes |
* Samples per / hour; depends on viscosity, tube, temperature and solvents chosen
** For temperatures around ambient, an external chiller is required
S-flow series specifications 
 
Feature

S-flow 870 / 1250 / 3500 

Standard methods

Complies to ASTM D7279, D2270 and Correlates to ASTM D445

Measuring range

0.3 – 3,000 mm2/s (cSt) @ 40°C 

Temperature range

20 – 120°C * 

Temperature stability

Better than ± 0.02°C

Timer resolution

0.001 s 

Sample volume

0.3 – 1.0 ml

Solvent consumption

2 – 3 ml per cycle

Sample throughput

Up to 80 samples per hour per bath (S-flow 1250 and 3500 models) **

Viscometer type

Houillon

Sensor type

Optical

PC Control

Multiple instruments controlled with 1 PC

Dimensions

44 x 48 x 62 cm. Single bath models
70 x 48 x 62 cm. Double bath models

Weight
32 kg. Single bath models
62 kg. Double bath models

Data export

USB storage device

Power requirement

2.5 kW; 115/240V – 50/60Hz. Single bath models
5 kW; 115/240V – 50/60Hz. Double bath models
*  For temperatures around ambient, an external chiller is required
** In optimum conditions
Optional accessories & upgrades
Following items are optional accessories and upgrades to the instrument.
Dual solvent cleaning
A suitable solvent used for cleaning should have the following two main characteristics:
It should be able to dissolve the sample that was tested, i.e. clean the tube completely
It should evaporate quickly enough at the bath temperature so that the tube is fully dry after cleaning
If the solvent used does have the ability to dissolve the sample, but does not evaporate quickly enough, a second solvent can be used to rinse out the first solvent, as well as dry the tube. Usually, low boiling solvents are used for this purpose, such as Acetone or MEK. 
Cooling spiral & cooling circulator
For measurements close to ambient (± 8°C), an additional cooling circulator is required to create sufficient offset for the temperature control unit. Each bath needs to be fitted with a cooling spiral, to which an external cooling circulator can be easily connected. Complete with tubing and fittings. Cooling spiral and cooling circulator will be supplied separately on request.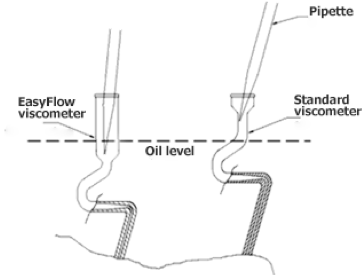 EasyFlow viscometers tubes
For high viscosity, EasyFlow can be great use. EasyFlow viscometers can be provided starting from tube constant 1.0.
Single                                       Duplo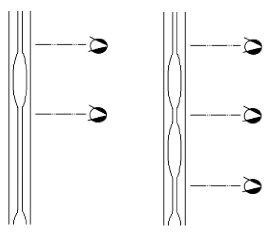 Duplo measurement tubes
The optional duplo measurement upgrade adds another array of optical fibers to the instrument, bringing the total number of detection points to three per tube instead of two.  Together with adapted S-flow tubes, which are fitted with two measuring trajectories, this enables the S-flow 870, S-flow 1250 and the S-flow 3500 to perform duplo measurements with a single sample injection, increasing productivity, saving even more on solvent consumption and runtime.
Compressor
Omnitek S-flow systems operate on clean and dry 5 bar @ 5 l/min of compressed air. A suitable compressor can be supply from Omnitek if no compressed air is available.
Positive – displacement pipette
Air-displacement pipette is supplied with S-flow series as a standard. It is recommended to use positive displacement pipette especially at higher viscosities (300 mm2/s and above) to avoid operator errors and for more accurate and repeatable injections. 
Software
All Omnitek S-flow systems utilizes advanced and easy to use multi-lingual software, it can be operated directly from the touchscreen, and both calibration and viscosity measurements can be performed without PC or software. However, to have more control, dedicated software is available, which can be used to control multiple systems.
PC
A PC system can be sourced locally or through Omnitek. Omnitek supplies the latest model entry level laptop or, if required, desktop. When sourcing locally, make sure the operating system is Windows 7 or later and that the PC/Laptop has 1 free USB port per instrument.
Printer
Any kind of printer can be used if instrument is connected to a PC via software. A printer can be sourced locally or through Omnitek. Omnitek supplies the latest model entry level laser printer.
Robotic Operation
Omnitek offers "Robotic Operation" for models S-flow 1250 and 3500 for customers that run large numbers of samples (>500 samples per day) and want to automate their sampling process. As each laboratory will have its own requirements, automation is a highly customized product which requires elaborate preparation. Please contact us for specific solutions to your sampling needs.
ASTM Thermometers
All S-flow units can be equipped with ASTM thermometers. The recommended thermometers that can be supplied are the modern digital contact thermometers (DCT), used at multiple temperatures.
This product is compliant with the following test methods:
This product is correlating with the following test method:
| | | |
| --- | --- | --- |
| Industries | Petroleum Based Samples | Other Sample Types |
| Refineries | Lubricating Oils | Printer ink |
| Terminals (Fuel Distribution) | Additives | Gelatins |
| Lubricant Manufacturers | Base Stocks |   |
| Additive Manufacturers | Industrial Oils |   |
| Condition Monitoring Labs | Transmission Oils |   |
| Third Party Testing Labs | Hydraulic Fluids |   |
| Research & Development Labs | Used Oils |   |
| Quality Control Labs | Waste Oils |   |
| Military Labs | Crude Oils |   |
| Power Plants | Fuel Oils |   |
| Mines | Gasoline  |   |
| Customs | Diesel |   |
| Universities | Bio Fuels |   |
| Automotive | Marine Fuels |   |
| Chemical Plants |   |   |
| Iron & Steel |   |   |
| Textile |   |   |
| Aviation |   |   |
| Railways |   |   |
| Highways |   |   |
For other fluids / solutions please send your inquire